Fixed Block booking:
Functionality:
You will find this functionality in the edit product page under the Booking Meta box, next to "View/ Delete Booking date, Time slots" tab. A new tab is created name "Fixed Block booking", here you will find the settings for the same.
This particular functionality will work with "Multiple Days" ONLY.
In this feature, you will need to make blocks on the back end which will be displayed on the front end in a drop down box.
For setting the blocks on the back end, you will need to name the block and set the number of days for which the block will be created, the start day and the end day of the week for the block to start and end and the fixed price for the block.
The prices which are out for the fixed blocks will override the product price.
This functionality will not work with the new "Price by Range of days" functionality.
On the product front end page, you will need to select the block which you want to book the product for; according to the block selected the dates in the calendar will be enabled. You will only need to select the check-in/ start date, the check-out/ end date will automatically be selected. You cannot select the checkout other than which is selected automatically.
Here are the steps to setup the Fixed block booking:
You will find the Fixed block booking settings block in the admin Edit Product page next to "Price by range of days" tab.
You will need to first enable the "Enable Fixed Block Booking" field which will display a Add New Booking Block button. Clicking on that you will see some fields appear.
For setting up the product, you will first need to give the block a name, which will be put in the Booking Block Name field.
Then you will need to add a range of the block which will define the range of the block in number of days on which the check-out date will depend on.
Then you will need to put in the start day and the end day of the week which can be set as per your requirement. Enter the Start day and the End day of the week from the drop down fields provided. Make sure the end day is co-ordinated with the number of days field value.
Lastly, you will need to provide the price for the block in the Price field. This price will be charged on the front end, here the default price will be overridden by the block price.
Save the block and the block created will be displayed below the block fields.
Here is how the admin side block will look like: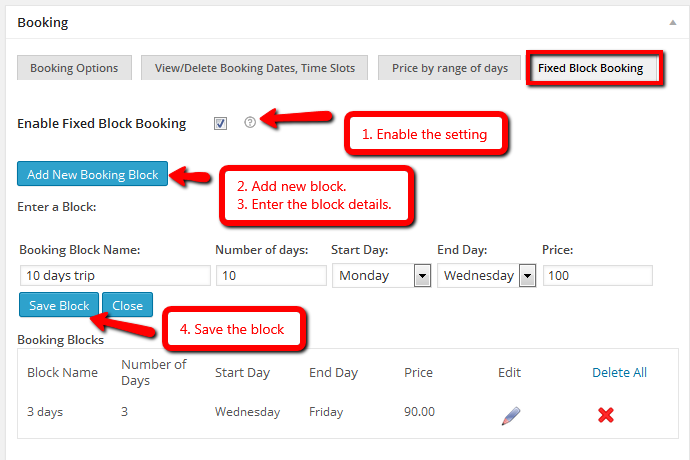 Here is how the front end site with the Fixed blocks enabled will look like: