If you are an online store owner, this is the most important post for you. It deals with your worst nightmare – Shopping Cart Abandonment.
Imagine your customer gets as far as the checkout page, and then, distracted by one thing or another, decides abandon it. It's hurtful, but above that, terrible for business.
Current statistics put shopping cart abandonment at 70% across the whole web. This means out of 100 potential customers, more than 70 of them leave without transacting on the store. Now consider capturing these 70 customers and managing to convert even half of them? Your sales will bring Christmas everyday.
The image below shows the different reasons why carts are abandoned, causing a dent in all kinds of businesses.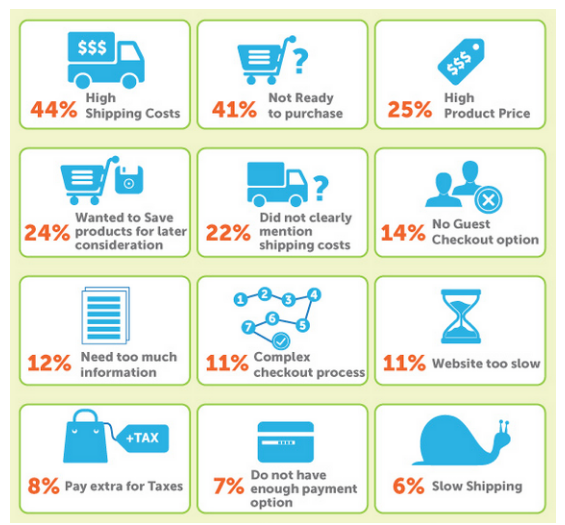 As online merchants, you know a buyer's' journey and how difficult it is to and how complex it is to direct them to actually transact. So let's see exactly why customers really abandon their carts at all,  and how the Abandoned Cart Pro for WooCommerce plugin can help change that.
Some of the main reasons for customers abandoning the shopping cart are as follows:
Customers are required to Create an Account before purchase.
Some merchants make it mandatory for the customers to register themselves before making any purchase. There are some customers who are not comfortable providing their personal information and thus opt out, while some find it worthless to fill out long forms just to make a single purchase.
Abandonment due to unexpectedly high shipping costs
There are companies that show a very high shipping cost for the products purchased. Customers who do not buy multiple products or make bulk product transactions will find this extremely expensive. Moreover, high shipping costs for products which are not shipped within a couple of days is also not acceptable by the customers today. Therefore customers get diverted to other sites searching for better deals or free shipping options.
Long and Confusing Checkout Processes
Nowadays, customers are looking for simple terms and conditions at checkout which are short and concise. As you know buyer's journey is more exploring and highly self-directed. If they sense an inability to proceed further due to long and confusing checkout process, they will abandon the order without a second thought.
Aggressive Upselling during transaction
Upselling during a transaction is the most annoying experience you can give to your customers. They tend to get distracted from their task by intrusive advertising when they are making the purchase. The use of pop-ups may interrupt the customer and result in they jumping to other sites for the quick and uninterrupted experience.
Better pricing on other sites
In today's era of online shopping, consumers are highly research-driven. They browse through different sites and compare prices for making online purchases. Thus better pricing on other sites would tend to divert them from your store as they are on constant lookout for a better price right till the last moment of their transaction.
Prices are shown in foreign currency
Not all customers have the ability or time to get currency conversions done before purchasing the product. If they see that there is no display of cost in local currency and they will have to know the exchange rate to calculate the actual pricing of the product, they will immediately leave the cart.
Website collapsed and shows slow response
Many times, while a customer is browsing through the products, the site gets slow and collapses, thus hindering the customer journey. This is due to the poor performance of servers where the websites are hosted. This will lead to poor customer experience, which will chase them away to faster, hassle-free shopping experiences. Such a poor customer experience leads them to other sites where they can have a hassle-free shopping experience.
Abandonment due to Payment Security Doubts
Customers are not comfortable to share any of their details online as they seem to feel their personal information is at risk. In the case of making a payment online, only a few agree to provide their payment details while most of them have payment security doubts which in turn will result in they opting out of the transaction.
Shopping cart abandonment has a direct impact on the online business, which is why it is necessary to take steps to at least reduce if not entirely eliminate the possibility. For which it is vital to have lost customers return to your site and make unsuccessful orders turn into successful transactions.
Our friends at SendX have given us the below infographic which provides some useful information about cart abandonment. It tries to answer questions like where the shopping cart traffic is coming from, which are the best converting channels you should focus on, why cart abandonment happens, when should you re-market and much more.
What is the simplest way to sort this issue?
Sending abandoned cart reminder emails is a great way to induce customers to return to their potential purchases and in turn help your business increase its online revenue. Alongwith reminder emails, you can also provide coupon codes for customers to avail of discounts, thus motivating them to complete their pending transactions. All of these can be fulfilled through the Abandoned Cart Pro for WooCommerce plugin as it provides a strong and profitable cart-reminder strategy.
Remember, these abandoned carts are prospective customers, not lost sales, so don't wait any longer to bring them back. Act fast, act smart.
Image source: https://www.experimentengine.com/blog/2015/06/04/reduce-shopping-cart-abandonment/