In many Ecommerce businesses, customers have to pay additional charges for the delivery of their items. In Order Delivery Date plugin, it is possible to set delivery charges for your customers based on different parameters. We have covered some of them in our previous posts, which are listed below:
1. Charges for Delivery Days and Specific Delivery Dates
2. Charges for Same Day Delivery and Next Day Delivery
Similarly, in this post, we will discuss how you can set delivery charges for time slots.
The delivery charges discussed in earlier posts are all based on the day of delivery. However, in Order Delivery Date Pro for WooCommerce plugin, it is also possible to setup delivery charges based on time slots. Here is how you can create a time slot if you haven't done that already.
If you have a business where you deliver your product to customers on their preferred delivery time but you want to charge an additional cost (based on the time slot) for that delivery apart from the order total. For example, you have an online toy shop where you provide each hour delivery. But you charge $15 as the additional cost of each time slot delivery.
This feature is available in the plugin where you can add additional charges on time slot. You can setup this under Order Delivery Date -> General Settings -> Time Slot.
Set Additional Charges and Checkout label for Time Slot Delivery
If you have an online Strawberries and Jam shop where you charge extra cost on the order if a customer wants the delivery on a particular time slot. And your charges per time slots are as mentioned below:
10.30 AM to 1.30 PM – $10
2.00 PM to 5.00 PM – $15
5.30 PM to 7.30 PM – $20
Along with delivery charges, you can set delivery charges label which describes the time slot charges in your order table on the checkout page.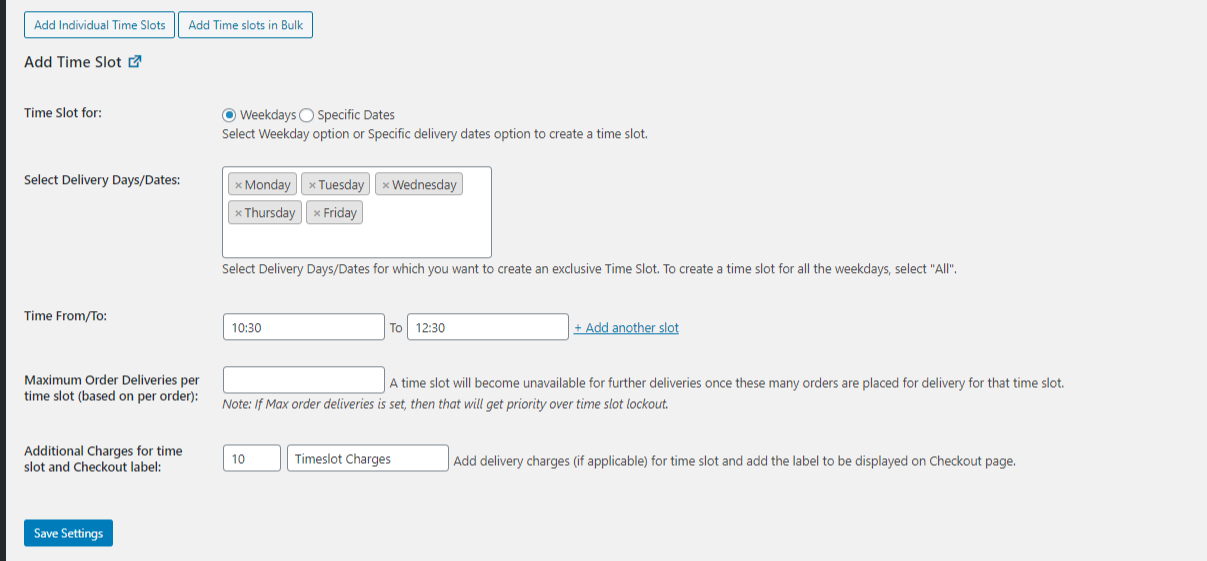 Once the above settings are done, you can see the delivery charges and delivery charges label which are added for a time slot in the Time Slots list table shown below.
Additional Charges and Checkout label on Checkout Page
If the customer selects Delivery Date as 12 January 2017 and Delivery Time Slot as 10.30 AM to 1.30 PM. So they will find $10 as an additional cost added in Your Order table upon selecting the delivery time slot on the checkout page.
Conclusion
In this post, we saw how you can set Delivery Charges for Time Slot on the checkout page. This will take only 10 minutes of your time. We will discuss how to Enable Tax calculation on the Delivery Charges in our next post.