In our last two posts, we had discussed on how to set up Delivery weekdays and Specific Delivery Dates in Order Delivery Date Pro for WooCommerce plugin. There we have explained on how to set them individually based on the business requirements.
In this post, we will discuss on how to set them together. So for some businesses like sweet shops which do not deliver sweets on some days of the week like Saturday and Sunday. But during some festivals like Diwali as they have too many orders they want to allow some Saturdays and Sundays only for the Festival Month.
So lets add Monday to Friday as weekdays when order deliveries can take place. For that go to Order Delivery Date -> Settings -> General Settings -> Date Settings and add Delivery Days as shown below:

Adding delivery days
This is how the delivery calendar will look like with only Weekdays enabled for delivery on the checkout page:
Delivery calendar on Checkout page
Such businesses can add some dates of Saturday and Sunday as Specific Delivery Dates from the plugin when they will take up order deliveries during Diwali. You can see the Specific Delivery Dates added below: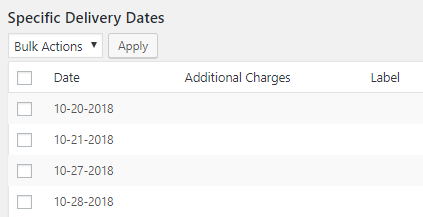 Adding Specific Delivery Dates
Now when the Specific Delivery Dates are enabled along with the Delivery Weekdays, this is how the delivery calendar will look like on the checkout page: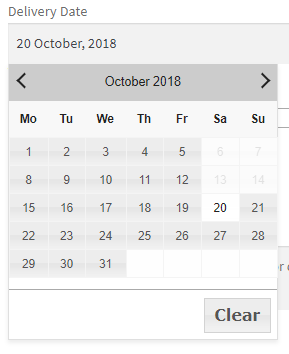 Specific date selected on Checkout
So if you have a business where you want to enable some specific delivery dates along with delivery weekdays then the above setup is useful for you.