We have seen how to disable deliveries during holidays in our earlier post using Order Delivery Date Pro for WooCommerce plugin. Today we shall focus on a new feature where you can setup recurring holidays. This means the range of dates you set as holidays will show disabled deliveries for the same year as well as all the coming years.
There are businesses where they have fixed period of inactivity in the year and hence would prefer to disable order deliveries during that time. Since this situation is the same every year, they prefer to enable the recurring option where the set holidays show disabled deliveries every year without having to set it up again and again.
Add & Delete Recurring Holidays
Adding Recurring Holidays:
In order to enable this setting, go to Order Delivery Date -> General Settings -> Holidays as shown below:

Holidays tab under General Settings
On this page, you need to enter the range of dates to set it up as Holidays. Say we add Christmas holidays from 24th December to 31st December and tick the Allow Recurring option as shown below: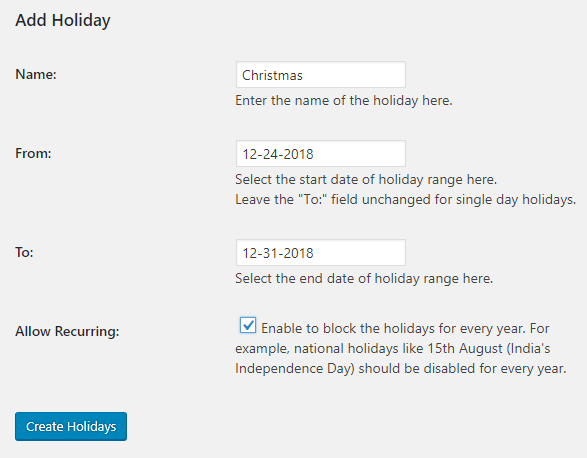 Adding date range for setting up holidays
Once you add the details and tick the checkbox for recurring option, click the Create Holidays button and you will see all the selected dates are added as recurring holidays under Holidays section as shown below: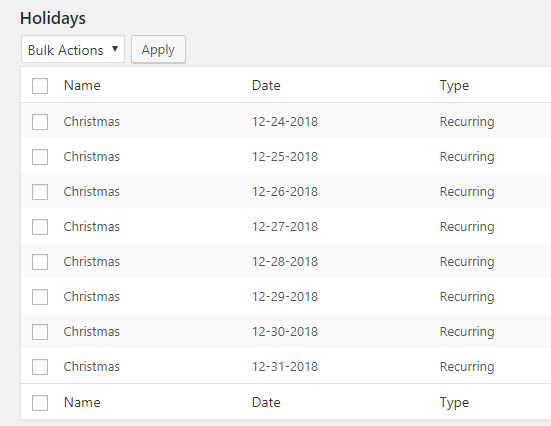 Added holidays show up as recurring
Deleting Recurring Holidays:
Here you want that the added holidays should recur only for 2 consecutive years and later you wish to delete them. Then this can be done using the Bulk Action option. Say you want to delete these holidays from the Holidays list, so you need to tick these holidays and click on Delete option from Bulk Actions dropdown as shown below and click on Apply button: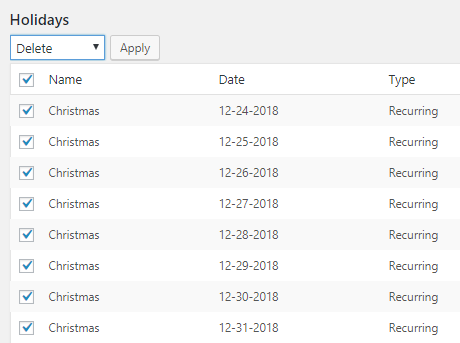 Deleting holidays using Bulk Actions
Output on Checkout page
The added setting also reflects on the delivery calendar on the checkout page. Since you have set holidays from 24th December to 31st December 2018, all these dates will be shown disabled for delivery on the checkout calendar as shown below: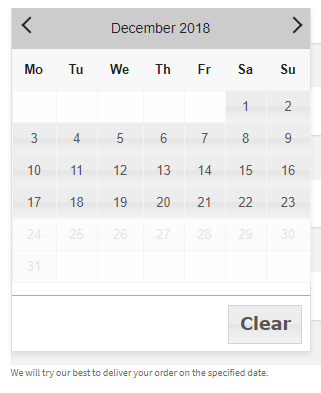 Selected dates shown disabled on checkout calendar
Now since we have enabled the recurring option, the calendar on the checkout page for the coming years will also show these dates disabled. The below calendar for year 2019 shows the dates 24th December to 31st December disabled: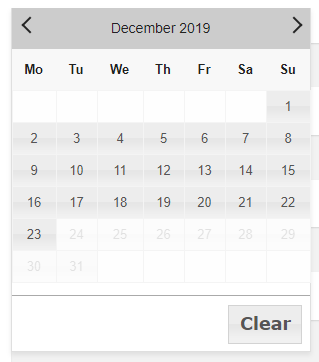 Selected dates shown disabled on checkout calendar for year 2019
This way shop owners can set different set of holidays when the order deliveries are inactive and recurring option helps them to set it up just once, thus avoiding the hassle of setting it up every year.