Table of Contents
Digital Market Outlook projects that the number of people from Europe using online food delivery services will reach 96.9 million by the year 2024. And that's just Europe! Can you imagine the online food delivery ordering and delivery system scene on a global scale? It's surely massive and ever-increasing because of various factors. A lot has changed consumer perception towards online food ordering and delivery services. One of them currently being the Covid-19 pandemic. Even though it feels as if consumers are forced into moving towards dine-in options, that's not the only case. Consumers are preferring to opt for this option because home delivery services are easier and hassle-free than the traditional dining-out scenario.
Considering all of these factors, many restaurants are shifting their businesses online because they've now understood the benefits that can be availed from the online world. And it's not just restaurants but even homemade food product sellers and freelancers who have started following this trend. To understand this world better, let's have a look at how switching things online can help your food business.
Why are an online food ordering and delivery system necessary for your restaurant/food business?
The first benefit of setting up an online food delivery website designed for ordering and delivery systems for your business is that you can easily update your restaurant or food business menu whenever you would like. This means that you can scrape off an item from the menu if it becomes unavailable or even if you wish to exchange it with another item that's more popular among your customers!
The second benefit is that you gain direct revenue when customers order from your website. According to Statista, restaurants managing their own deliveries generate at least $184.18 per customer. This is definitely more compared to the cut of revenue your food business pays to third party services or food portals. Preoday, a London-based provider of digital ordering technology, even revealed that 70% of UK consumers prefer to order directly from a restaurant rather than any third party services. That's why creating your own online ordering and delivery system for your restaurant becomes extremely important.
Lastly, it does wonders for your sales because one of the greatest assets of having an online whole food ordering and delivery system is that it allows you to grow your bottom line. According to TouchBistro's 2019 Annual Restaurant Report, restaurants with online ordering and delivery services have seen an increase of up to 20% in their sales. This is because a food delivery without minimum order help cover up the lost income from when there are very few customers coming in to dine at your restaurant. Eating at home has become the new fad which is why online food delivery is expected to supersize to $200 billion by 2025!
Some Delivery-related issues faced by Food Businesses
Managing your deliveries is a big task. Especially if you're in the restaurant business line where you have to manage several orders at once. Things such as miscommunication, an overall hectic and loud environment can make you miss out on orders. To top it off, managing bulk orders can get tedious and even result in inefficient order management. This in turn can result in a lot of compromise on how it has been packed, how it is delivered, and the overall food's quality.
Another factor that comes under managing delivery is the date and time of delivery. According to the Online Foodservice Consumer report, one-third of the survey's respondents were willing to pay a higher fee for faster delivery service. This just shows how customers are often bothered when food delivery is unreliable and not on time.
There are several reasons why the food can arrive late and some of them include traffic, employee-related issues, the volume of the order, etc. The logistics predicament certainly rings true because of how far exactly is your restaurant willing to deliver. Aspects such as specificity of area, number of drivers, delivery radius are just some of the logistics-related issues that restaurants face.
This is why your online restaurant needs to keep all of the parameters in mind, especially the date and time. According to the 2018 Global Consumer Insights Survey, a quarter of customers preferred to pay more to get their deliveries within a one-or two-hour window of their choosing. To make all of this possible, your store requires powerful plugins that can help you manage several aspects such as delivery dates, delivery drivers, delivery orders, etc.
Setup WooCommerce Online Food Ordering and Delivery Website Using Restaurant Ordering Plugin
Creating a WooCommerce online food ordering and delivery website is just a matter of a few steps which you can easily configure with this post. After figuring out your WordPress site, you can install the WooCommerce plugin on it. Once that is done, the next step would be adding food items as WooCommerce Products.
For this you need to-
Go to Dashboard > Products > Add New.

Here you will add the Food name, its short description, price, product image, categories, and even tags.

Under Product data settings, you can choose Simple Product. If you choose to make a variable product to offer more choices you can do so.

You can even set the Regular Price or a price of different variations if you've chosen variable products.

The last step to do is click on Publish and repeat the steps until you have added all your food items.
After adding all your food items as WooCommerce Products, the next step is to utilize some plugins that will enhance your website.
A) Using WooCommerce Product Table plugin
Barn2's WooCommerce Product Table plugin costs around $99 and it can help transform your WooCommerce food website into a full-fledged online food ordering system. With this plugin, you can create a menu with search, sort, and filter options. The customers can even choose multiple food items in one go. Let's see how we can set it up.
1. Food Menu
Using the WooCommerce Product Table plugin for your online food delivery website, you can create a menu where the customers can easily filter out their preferences. The customers don't need to keep several tabs with different menu options open to choose what they want. What this allows you to do is create a traditional menu but in an online format. You can even create separate tables of different food items such as Snacks, Mains, Drinks, Desserts, etc.
After installing and activating the WooCommerce Product Table plugin you should go to Pages > Add New in order to create a new page where your online menu will be showcased to your customers. Here you need to name it and then click on the 'Insert product table' button from the text editor's toolbar. After this, you can click on the 'Publish' button. All of your items will directly get added and it will look like this-
2. Food Order Placement System
For this, you will go to WooCommerce > Settings > Products > Product tables. Under the Table Content section, you will find the Columns options which will help you create as many columns as you'd like them to appear on your menu table. You can create columns for Name of the food item, Image of the food item, Description, Price, Tags and an Add to Cart button.
The next thing is clicking on 'Button and Checkbox' under 'Add to cart button'. By doing this, you will allow your customers to be able to select all the food items at once instead of choosing one food item at a time and adding it to the cart. Following this, you will select the box that says 'Select quantity selectors in the Add to Cart column' which is under the Quantities section. This option will allow customers to order more than one food item.
Under the Table control section, use the dropdown menu under the Product filters to choose 'Show based on columns in table'. This will allow your customers to filter their food preferences according to the tags that you've set for the menu. The last thing to do here is to click on the 'Save changes' button.
And ta-da your online food ordering page should look something like this now
Now that you have figured out the ordering system it's time to set up your Delivery system.
B) Using Order Delivery Date Pro (WooCommerce Food Delivery Plugin)
The Order Delivery Date Pro for WooCommerce comes at the price of $99 and is extremely useful for scheduling your deliveries. With this plugin, you can schedule your deliveries according to Product Categories, Shipping Classes, Pickup Locations, and some other options.
The first thing that you need to do is install the plugin and activate the license key. After this, you can set up both delivery dates and times for your deliveries. Here's how you can do so-
1) Setting up Delivery Date
To set up the delivery date you need to go to Order Delivery Date > General Settings > Date Settings link. Under Delivery Days, you can choose the days where you will be offering delivery of your food items. This setting can directly be seen on the calendar that will be visible on the checkout page as follows-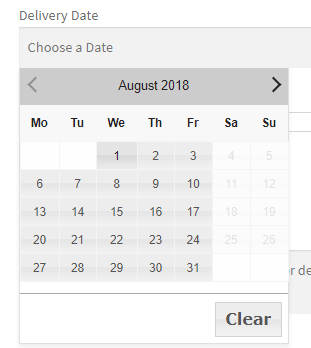 Check out Page which shows no delivery on Weekends.
Another thing you can do with this plugin is set up specific dates for your delivery. Let's say that your food business' deliveries are not on recurring weekdays. Or you wish to create a different set of rules specific only to one weekday, such as adding extra delivery charges on just the Thursday of 31st December, barring the other Thursdays. This feature of the plugin will help you navigate it.
To do so, you can go to Order Delivery Date > General Settings > Specific Delivery Dates link. Here you can click the checkbox under 'Enable Specific Delivery Dates'. You should also disable all the Delivery Weekdays under the Order Delivery Date > General Settings > Date Settings link.

After this, you can add your specific dates by clicking on the Specific Delivery Date section and clicking on Save Settings.
2) Setting up a Delivery date with Time
With this plugin, you can either choose to set up your delivery time as Time Slots or Time Range.
a) Setting up Time Slots
To do this, you need to go to Order Delivery Date > General Settings > Time Slot. From there, you will click the checkbox under 'Enable time slot capture'. After this, you can choose if you want to keep the time slots for specific days or just weekdays. Accordingly, you can tick the checkbox. For now, we will choose Weekdays.
Once this is done, you will only be able to decide the weekdays that were listed under Date Settings.
After choosing these weekdays, you will create the time slots for them by selecting the start time and the end time for the time slot. The image below shows a one-time slot that you've set.
You can follow the same steps to create as many time slots as you would like. Once all the time slots are added they will be listed in a table format as such-
You can even delete the time slots by simply selecting them, then going to Bulk Actions, and then selecting the Delete option under it.
To ease out your experience of using time slots, v9.20.0 of our Order Delivery Date Pro for WooCommerce now comes with the ability to add time slots in bulk!
b) Setting up Time range
To do this, you can first go to Order Delivery Date > Settings > General Settings > Time Settings link. From there you can tick the checkbox under 'Enable delivery time capture'. This will allow you to set the start hours and end hours from the time sliders. Under 'Time Range' you can enter the aforementioned details.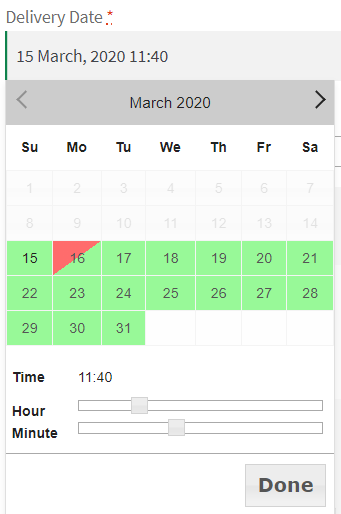 For example, after selecting the timings in 24 hours format, you can set your start time as 9 hours and end time as 17 hours & 45 minutes. Your checkout page will look something like this-

You have now successfully set up the most important part of your delivery system. If you wish to get an in-depth insight into the various features of this plugin, you find out more here.
Want some real-life examples of how this plugin functions? We've got you covered.
Here are some food businesses using the Order Delivery Date Pro Plugin
Jan Smink's restaurant's @ Home Menu offers various food items such as wine, meat, and seafood dishes, cheese platters, and even 5-course menu options! On their food ordering page, you can see how they have utilized the time slots option that comes under the woocommerce food delivery plugin. With it, they are making their restaurant delivery more customer-centric by allowing them to select their preferred time and date of delivery.
Les Tables de la Gare is a fascinating two-fold venture- a restaurant as well as a local grocery store named 'Drive & Cow' where you can easily pick up your orders! You can find farm-fresh produce such as meats, fishes, fruits, veggies as well as dairy products at this little French nook. Les Tables de la Gare uses this plugin as a WooCommerce takeaway plugin.
This Chinese food store sells handmade honey twists in several different flavors.
This Indian brand is focused on selling the best quality of Indian produce on a global platform. The dates in green show the delivery availability for customers.
You will find this cafe situated in Faroe Islands, Denmark. Along with selling their cafe delicacies on their online platform, they even sell products such as coffee and tea! As you can see in the image below, Glasstovan Cafe has used the time range feature from the WooCommerce restuarant Order Delivery plugin to ensure timely delivery for its customers.
Madrid-based Un Mar de Arroces sells paellas and other rice dishes. With the goal of creating a 100% delivery restaurant, they accompany their rice dishes with gourmet products and drinks.
Conveying your Restuarant Delivery criteria to your customers
Sites with online food ordering and delivery systems tend to have a specific Delivery Information attached to their checkout pages. For example on Jin Fa Foods' checkout page you will find them specify that while trying their best to ship the order on a specific date, their shipping can take up to 48 hours after placing the order.
On Un Mar de Arroces' checkout page, you will see them mention not only the Province but also give the option of the Pick-Up venue for their customers. They have also specified the margin time for that their deliveries take.
On Restuarant Smink's checkout page you will find the Delivery charges if your order isn't necessarily a take away.
Apart from additional information barring the Delivery Date and Delivery Timings, you will find notes on their delivery as well as Pick Up options! All of the above-mentioned information helps the customer understand the particularities of delivery-related details.
Additionally, we would also like to point out that setting up a payment gateway for collecting payments is just as crucial. Offer your customers the choice of being able to pay through various Payment Gateway options. Of course, one of the widely used extensions for this is WooCommerce Payments, however, you can configure which payment option suits your business model by going through the WooCommerce payment documentation.
Some other restuarant plugins to consider for your Online Food Ordering and Delivery Business
To get a comprehensive understanding of basic WooCommerce shipping, you can read our comprehensive guide to WooCommerce shipping . But if you wish to make the shipping of your online food ordering and delivery business a bit fancier, we'd recommend checking out the Table Rate Shipping for WooCommerce plugin for $25. This plugin comes with the ability to set up multiple shipping methods, offer more than just flat rate prices, and many such useful things for your WooCommerce store. What's even more convenient for shoppers is that this plugin is compatible with our Order Delivery Date Pro for the WooCommerce plugin.
As an recipes! food ordering and delivery business, your delivery game needs to be up to the mark. You could lose customers if your food surpasses the delivery time. To avoid this, you need a good tracking system for your orders and this plugin, in particular, becomes very handy. With this plugin, you can add designated Driver roles, edit orders, assign specific drivers to the order, and even configure the order as Out for Delivery or Completed. You find out how to install it and check out its Pro version which costs $49.95!
With this plugin, your online food ordering and food delivery system business will allow customers to check whether food items from your store can be delivered at their area zip or pin code. It comes with not one but six flexible methods. You can define your delivery areas based on distance from the store, drawing delivery area on a map, specifying the country, etc. This plugin becomes very useful in keeping a track of the logistics of your business at just $39.
Conclusion
According to Statista, the revenue for the Online Food Delivery segment will grow from 2020's US $136,431m to US $ 182,327m by the year 2024. This means that the sector is going to grow by 7.5% in the coming four years! This is just one such indication of how crucial this segment is for your online food ordering and delivery business. If you wish to grow your food business, now's the time to create your own online ordering and delivery system with WooCommerce.