We have introduced many new features in Abandoned Cart Pro for WooCommerce plugin version 7.7. One of them is to capture an email address from URL for Guest Users. We have added this new setting under the General Settings section namely Capture Email address from URL.
Purpose
Whenever shop owners want to send promotional emails with new products or services to the customers, they can embed the key that was specified in the email and the receiver's email, in some sort of links. So when a customer opens the email and clicks on one of those links, the email gets captured and shop owners can know the customer details of those who tried to make some purchases.
This way you can increase the list of target audiences and encourage more users to visit your site which in turn can boost the overall online sales.
How does this work?
Once your plugin is installed and activated, you will find a setting named Capture Email address from URL under General Settings page of Settings tab as shown below: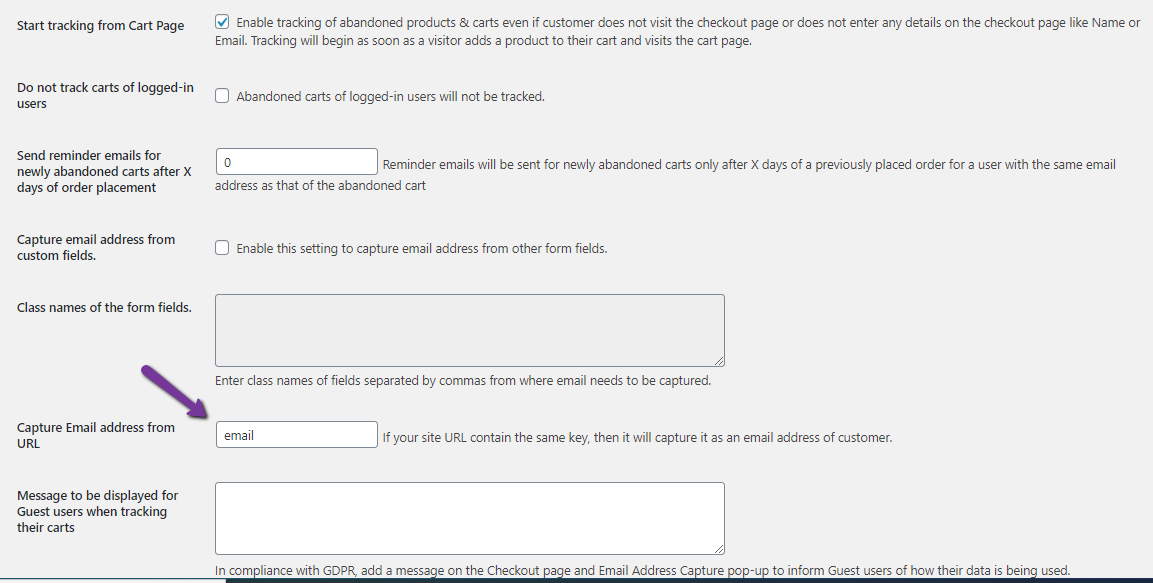 New setting added under the Settings tab
Note: The text which we add in the Capture Email address from URL field is considered as the key.
You can use any word as your key in this setting.
For instance, we have used the word email as a key here, in the Capture Email address from URL field as shown above. This will ensure that when your site URL has the same key then the email address will be captured.
Let us understand this better with an example.
Consider your site URL as www.abc.com/?email=xyz@gmail.com. So if the URL has the key email then the value from the URL will be captured. So in this case, the email will be captured as xyz@gmail.com for guest users.
Hence when a guest user visits the site and his email address is captured from the URL, then the Add to cart popup modal will not be shown to that user as his email address has already been captured.
Conclusion
Capturing email addresses from site URL is a feature that will work only for guest users and helps the store owner to capture as many site visitors as possible. There are times when users get annoyed by adding their email details before proceeding to checkout in Add to cart popup modal and hence they leave the cart abandoned.
This is one way to stop such users from abandoning the cart and in turn helps increase online sales.