With this feature, the store owner will be able to expand upon their Same-day and Next-day delivery charges.
For example, if your customer requires their delivery within 2 or 3 days of placing the order, then you can charge them a comparatively higher delivery fee. It would be different from Weekday wise charges because this feature will not charge your customer based on the day of delivery rather it will be based on the urgency of the delivery. Weekday wise charges would typically be applicable only to weekends. You can use this feature for both default delivery schedules as well as custom delivery schedules. For default schedule, you have to click the pencil icon of the schedule to edit it. As for custom delivery schedule, you would have the option to either create a new one or edit any of their previous custom schedules by clicking the pencil icon that particular schedule.
Go to Order Delivery Date > Delivery Schedule.
Scroll down do Add custom delivery schedule.
Go to Additional Charges section.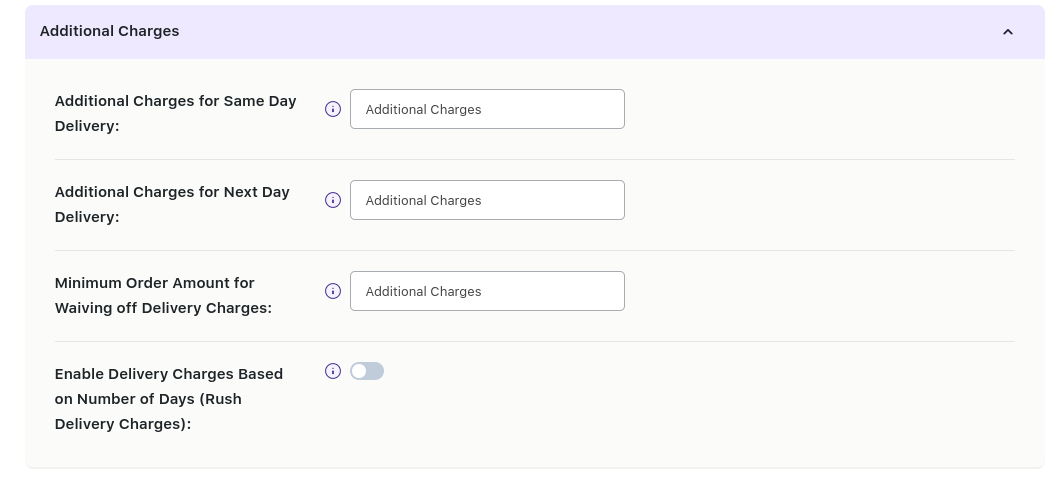 Switch the toggle on for Enable Delivery Charges Based on Number of Days (Rush Delivery Charges).

The option Additional Charges Based on Number of Days From Current Date will appear. Then, you can go fill in the Number of days option, Delivery charges label & the delivery amount that are shown below:
Please ensure that under 'Number of days' option you select 2 or go beyond that. This is because we already have options that cover same-day (i.e: day 0) and next-day (i.e: day 1) delivery charges. On the right-hand side, you will find a Delete icon. If you wish to delete any of these additional charges you can click on them. If you wish to add more delivery charges then you can click on the Add more button.

Click on the 'Save Settings' button, once you are done.
For example, we've made the settings in the above-displayed image as 2-day delivery charge would be $25, $20 for 3 days, and $10 for 4 days. Here, each of the 'delivery charges label' fields have also been filled in accordingly. For example, when we write '3 days delivery charges' then this text will be displayed to the customer on their checkout page when they've chosen to receive their order on the third date from order placement.
As discussed earlier, you can enable this option and fill in your details however you would like. Thus, in this way, the additional charges based on the number of days from current date settings will get applied.
Now, let's say that a customer chooses to buy an item from your store on 10th May 2022. They have added a 'Designer Scarf' to the cart. If they choose the delivery date as 12th May (2 days after 10th May) then that would mean that they would be charged $25 dollars as their delivery fee. So this is how the delivery charges would appear on the checkout page:
Similarly, if they choose 13th May as their delivery date then they would be charged $20.
In conclusion, with the Order Delivery Date Pro for WooCommerce, you can add delivery charges on your WooCommerce store based on the number of days since the order has been placed. This feature is especially useful for businesses that wish to charge their customers more based on the customer's urgency of wanting the product delivered.
Important Note:
If any holiday comes in between, or a non-delivery weekday comes, or the minimum delivery time is higher than 24, then the same logic would be followed which we have been currently following for same-day & next-day delivery charges.
For example, let's consider that we have applied the above settings of delivery charges & that today's date is 26 April 2021, then below is how the charges would be applied under different scenarios:
Case 1: Assuming both 27 April & 28 April 2022 are available:
29th April 2022: $25 delivery charges
30th April 2022: $20 delivery charges
1st May 2022: $10 delivery charges
2nd May 2022 (and beyond): No delivery charges
Case 2: 27 April is disabled or is unavailable due to a higher minimum delivery time:
28th/29th April 2022: No charges
30th April 2022: $25 delivery charges
1st May 2022: $20 delivery charges
2nd May 2022: $10
Case 3: 27 April is enabled, 28 April is a holiday:
27th/29th April 2022: No charges
30th April 2022: $25 delivery charges
1st May 2022: $20 delivery charges
2nd May 2022: $10
Case 4: 27 April is disabled, 28 April is a holiday, Minimum delivery time is 48:
29/30 April 2022: No charges
1st May 2022: $25
2nd May 2022: $20
3rd May 2022: $10
No charges beyond this