Deliveries are generally an end step for an eCommerce business. And there are certain dates in your business on which you do not deliver your products like public or festival holidays.
In this post, we will discuss how to exclude holidays in Order Delivery Date Pro for WooCommerce plugin and how they will work on the checkout page.
For example, let's say that you have a business of selling flower bouquets. For certain dates like 7th October, 8th October and 9th October you cannot make deliveries of the flowers as your shop is closed on that dates. So you want that this dates should be disabled in the calendar, and the customer should not select those dates.
Setting up Holidays
The first step of this setup is under Order delivery Date -> Delivery Schedule.

Scroll down to Add custom delivery schedule. Holidays can be added for both Default and Custom delivery schedules. You can also click on the pencil icon (edit option) of the delivery schedule of your preference and add holidays.
Scroll down to the Holidays section and click on it.
                                      ↓
Click on the Add more.

The first field you will find on the Holidays link is Holiday name. Holiday name will be the label for the holiday dates which will help the customers to identify the disabled days in the calendar. So if for some reason your shop is closed on certain dates, then you can set the holiday name as "Shop Closed", or for festive holidays you can add the name as "Diwali", "Christmas" and so on.
After that, the next field is to select the start date for the holiday range you want to add. It allows you to add the holiday dates in a range as well as the single dates. For example, you have 2 or 3 days' holidays for Diwali occasion from 24th October to 26st October, so you can select From date as 24th October and To date as 26st October. After that, click on Save Settings.
Under the Type section, you can also choose if you want your holiday to be Current Year or Recurring. Current year applies only for this year and Recurring for every year onward.

↓
After selecting the holiday dates you can add them by clicking Add more button. Once the holidays are created you can see the holidays added in the Holidays List below: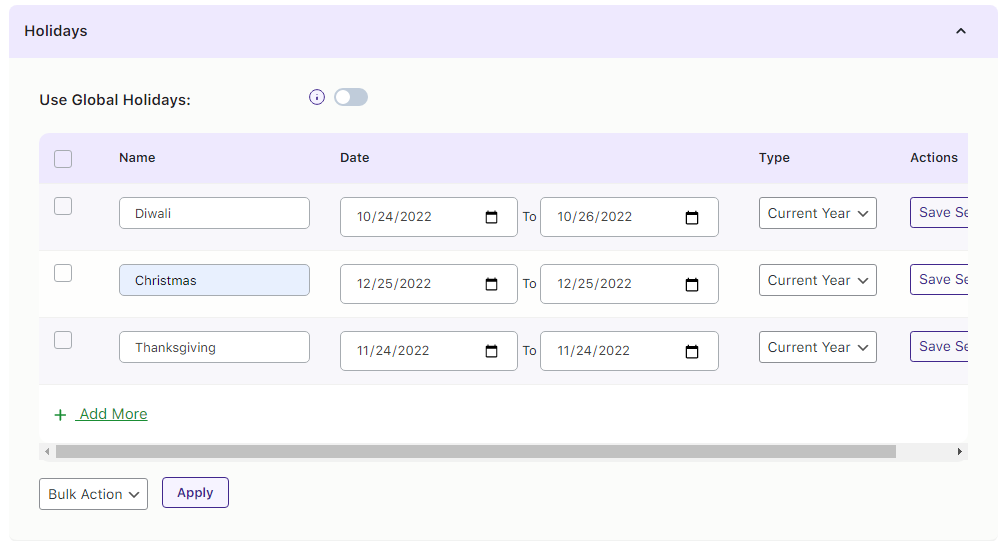 Once all the holidays are added for the dates, if you want to delete any of the holidays which is not required, then you can select the checkbox next to the holiday row and select the delete option in the Bulk Actions. Bulk actions is for deleting more than 1 holiday delete option under ACTION will delete only that specific holiday.

For example, if you want to delete holiday dates 10-28-2022 and 10-29-2022 from holidays list, then have to select the checkbox for it and delete it.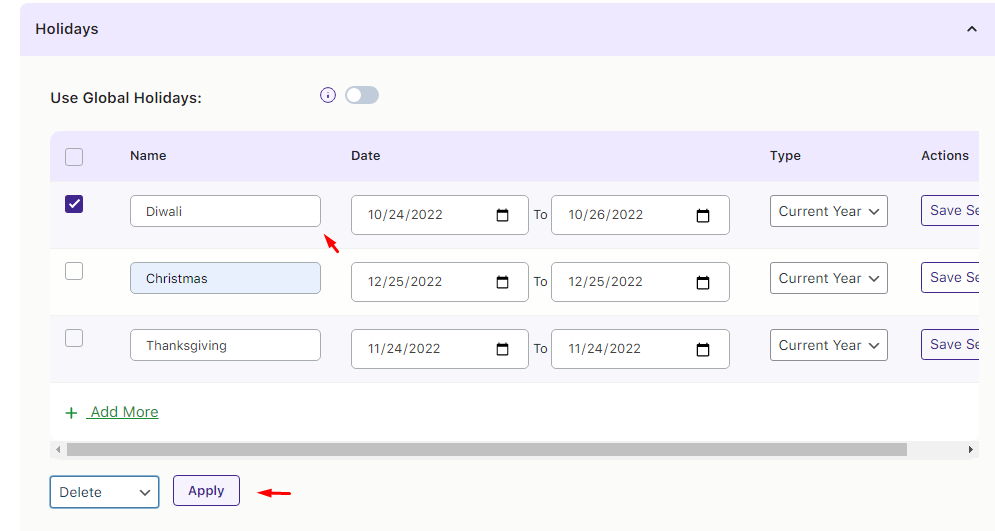 Holidays in Order Delivery Date: User Experience
When users arrive at your checkout page after setting all the holiday dates, they will see all the dates are disabled with a label indicating the date is a holiday.