We know that many of you have some complex delivery needs and for the same you require to create a delivery schedule that matches your needs. Our Order Delivery Date Pro for WooCommerce plugin is thus built to ensure that all of this is possible in one single place.
Go to Order Delivery Date -> Settings -> Delivery Schedule. The Page would appear like this: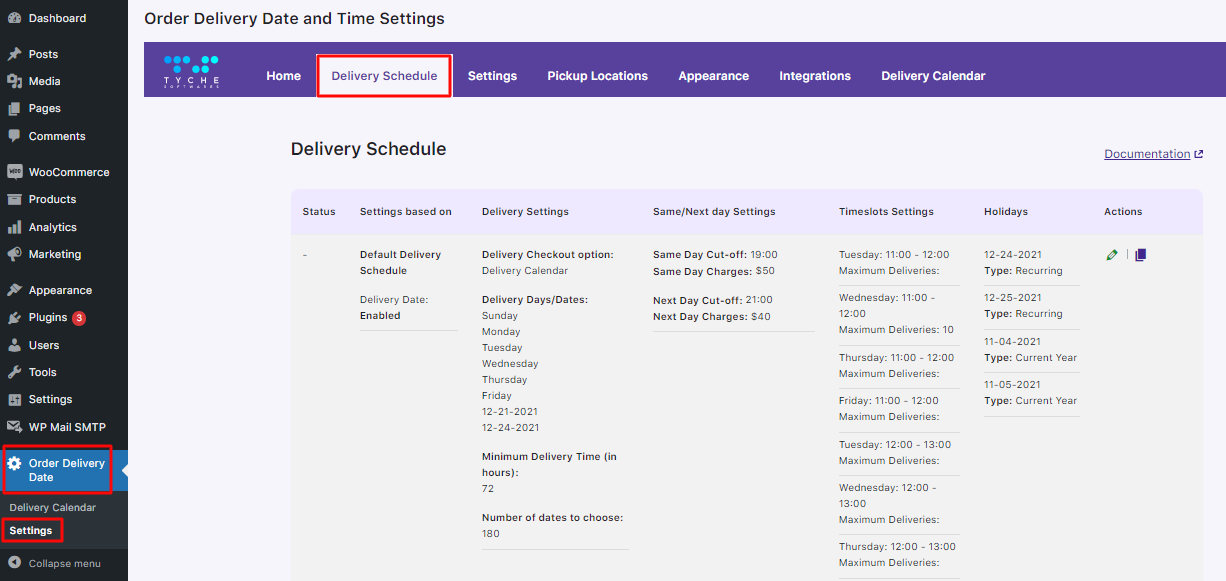 This is the default delivery schedule. All the different settings that have been enabled here will be applied to all the products by default. To edit this delivery schedule, you can click on the Edit option (pencil icon) under Actions.
Once you click on it, you will see various dropdowns that will let you configure different settings such as offering delivery dates, time slots, setting up Holidays or even Next Day Delivery charges.
For instance, when one clicks the Date Settings dropdown, they will get to see this: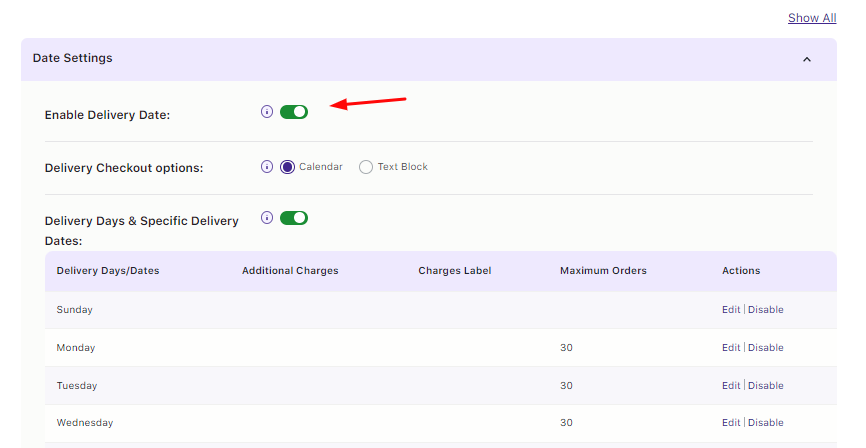 If you enable the toggle the delivery date, then your customers will be able to select a delivery date for all the products that are available on your store. Once you're done setting up all the other settings, you can click the 'Save Settings' button.
Please Note: The default delivery schedule cannot be enabled and disabled like a custom delivery schedule. However, store owners can edit the default delivery schedule and turn off the 'Enable delivery date' setting.
Moving on, you will also get an option to set up different Custom Delivery Schedules. Let's say that you wish to have different  different delivery days enabled for a specific product category such as 'Clothing', then you can create a custom delivery schedule for it. You can create and enable as may different custom delivery schedules similar to the one shown here: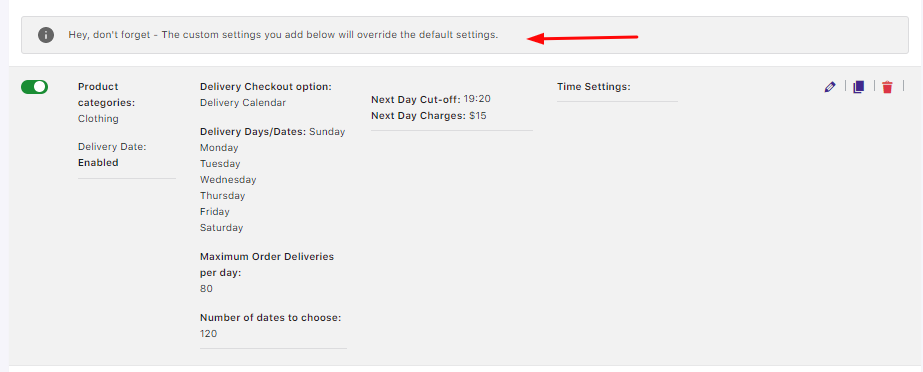 To create it, you can scroll down and find the 'Add custom delivery schedule' option.

Click on it and you'll see the same dropdowns that will help you set up different settings such as time slots, dates, holidays and so on. But along with this, you'll get the option to choose what these custom settings would be based on. The options available are:
Shipping Methods
Product Categories
Product Categories and Shipping Methods
Pickup Locations and Product Categories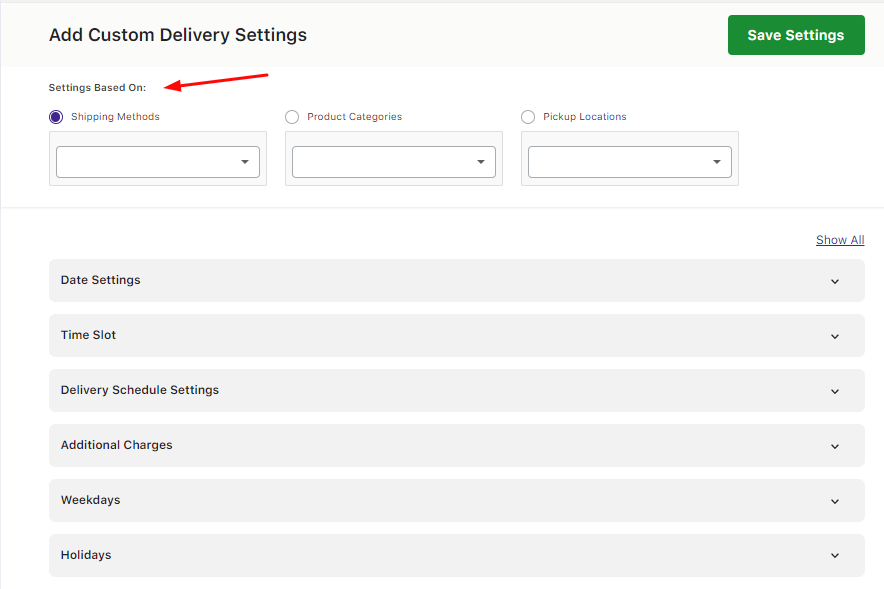 Here's how you can choose the options based on your requirements: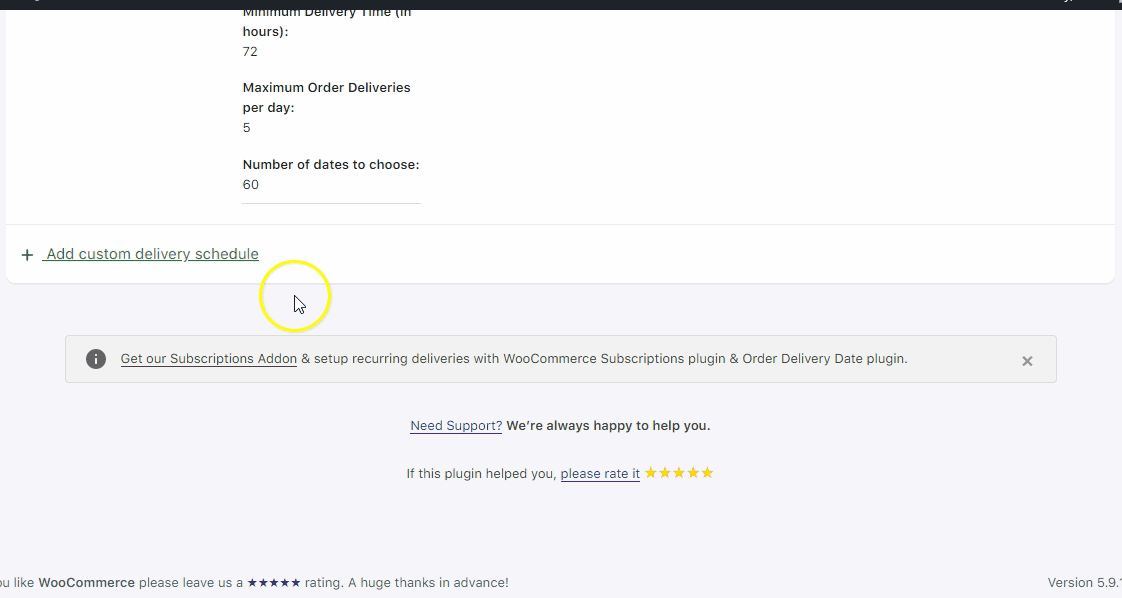 Once you're done configuring the settings, you can click the Save Settings button and your Custom Delivery Schedule would be created. Depending on whether you wish to disable a custom delivery schedule for some time or not, you can use the toggle to enable and disable the schedules:
In the top right corner, you will also find three different settings. When you click on the Pencil icon, you'll be able to edit the custom delivery schedule.
When you click on the Duplicate icon, the same custom delivery schedule will be created again. You can edit it after it if needed. This is immensely helpful if you have already created a custom delivery schedule and wish to apply to different Product Category or Shipping Method or Pickup Location.
Lastly, the Trash icon can be used if you wish to delete a custom delivery schedule.
To summarise, Order Delivery Date Pro for WooCommerce plugin, offers you the ability to set up different custom delivery schedules as per your specific requirements. It also comes with a default delivery schedule which can be used for all your products!
To learn more about the different settings that can be configured while you create delivery schedules, head over to our Common Delivery Schedule Settings section.