Many online businesses may not be able to provide the exact delivery time for their customers. It's a better business model to instead provide a time-range which their customers can choose. So, with our Order Delivery Date Pro for WooCommerce plugin, you can easily setup a delivery date and time range for the customers.
For instance, some businesses like Cake shops, Gift shops, Grocery delivery stores, etc want their customers to select their preferred time between the working hours. In such a case, they can use the Time range settings from the plugin.
For this, got to Order Delivery Date > Settings > Delivery Schedule > Add custom delivery schedule button. Once you click it, you choose the settings on which this schedule will be based on. Let's go with a Product:

Fill in your date settings and then go to the Time Slot dropdown as shown here: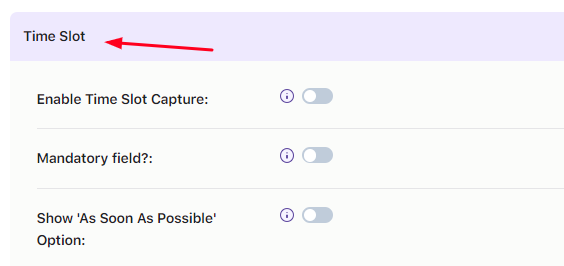 Scroll down to find the 'Enable Delivery Time' setting. Enable the toggle and you'll find the delivery time range settings as shown below:

Enter a time range you wish your customers to choose from. Set the start hours and the end hours along with start minutes and end minutes for the time sliders. So for example, if your working hours are from 09:00 AM and close at 06:00 PM then you can set the start time as 9 hours and end time as 18 hours. Select the timings in 24 hours format. Click on Save Settings once done.

Once the time range is set, users will be able to select the preferred time from the time sliders on Checkout Page. The minute slider interval defaults to 5 minutes.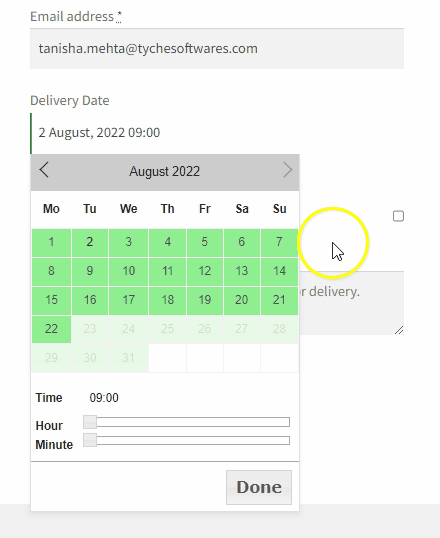 Voila! You've set you the time range setting from our plugin. So, if you have a business where you want your customers to choose their preferred time from a range along with delivery date then this feature's for you!