The Order Delivery Date Pro for WooCommerce plugin comes with a feature that can easily help you to either import or export your delivery settings from one store to another. This feature can be extremely useful when you need to share your plugin's settings with our Support Team in case there's some issue. This will help us create an exact replica of your setup at our end & help you out faster!
Let's see how to configure them
Export or Import your Delivery Settings
In order to use this feature you can go to Order Delivery Date > Settings > Home > Tools.
Here's how the page will appear to you:
As you can see, you will find three options here. Let's have a look at them one by one:
1) Exporting Delivery Settings

If you wish to export all the delivery settings then you can click on the Export Settings option here. It will download your settings in a .json format.
It is important to note here that:
This will only export the General delivery settings & not the custom delivery settings.
If you wish to export Google Calendar Sync settings, then the Key file will not be exported. You will have to upload it manually.
After you have imported other settings, you can add the imported ICS feeds since they will not be exported.
If you have any settings for individual Product Categories, then those would also not be exported. You need to enable delivery manually for the categories.
2) Exporting Custom Delivery Settings
If you specifically wish to export Custom Delivery Settings, then you can click on the Export Settings option as shown in the image above.
For this setting, it is important to note that:
1. 'Settings based on' option will not be exported for the Custom Delivery Settings.
2. You need to map this option for an individual setting after importing it.
3) Importing Delivery Settings

Let's say that you have been working on your staging site with our plugin. You can then easily import those delivery settings to your live site with this feature.
As we can see in the above image, in order to import your settings, you will have to click on Choose File. Once you do that, it will appear as such: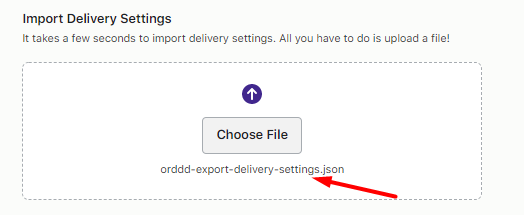 If you are unable to see your file that means it hasn't been selected. Once you have selected your file, you can click on the button Import Settings.
Here are a few things we need to keep in mind while importing:
1. You can import both General Delivery Settings as well as Custom Delivery Settings here.
2. When you are importing, it will not import categories or shipping methods. For example, let's say that you imported Custom Delivery Settings.
After importing, when you go to the Custom Delivery settings, you will be able to see settings such as Delivery Checkout option, Delivery Days, Maximum Order deliveries, and so on imported.
But you would not be able to see which category or shipping method they are for.
To compare here's how a Custom Delivery setting with Product category & Shipping Method will appear: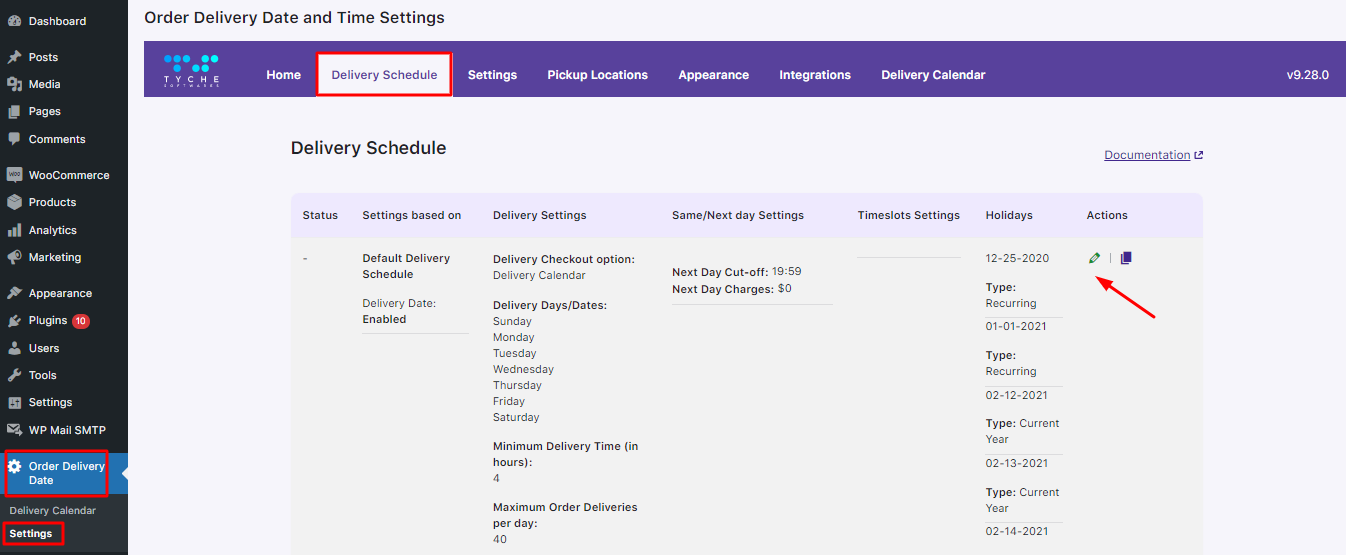 In contrast, here's how your imported Custom Delivery Settings will appear:

Here, the admin needs to select the appropriate Shipping Method, Product Category, or any other criteria as that won't be imported.
In this manner, you can export or import delivery settings with the Order Delivery Date Pro plugin.